US-50/100 Series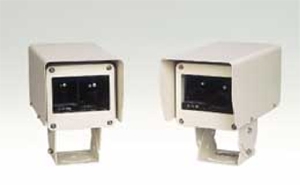 Feature
This system is an optical wireless LAN supporting Ethernet. It is capable of a fast transfer speed of 100 Mbps. It can communicate video, voice, control signals, and more with a Web-enabled network camera without stress. Models with communication ranges of 50 and 100 meters are available.
Connects wirelessly to Ethernet via infrared, enabling high-volume communication without loss of quality.
It has a fast transfer speed of 100 Mbps.
Two communication ranges are available: 10 to 50 meters, and 15 to 100 meters.
All models can be used outdoors, making this product perfect for use between buildings or in locations where it is not feasible to lay cable.
It can connect to your existing hub or computer without modification.
Specification
Model No. Descriptions

Main Specifications
Model

US-50-SRB

US-100-SRB2

Transmission rate

100Mbps

Environment

IEEE802.3u (Fast Ethernet)

Interface

100BASE-TX

Transmission distance

10 to 50m

15 to 100m

Directivity

Approx.1.5°US-50-SRB Approx.1.0°US-100-SRB2

Transmission method

Full-duplex, bi-directional

Power voltage

AC90 – 110V

Power consumption

10W

Auxiliary function

Change test mode (using switch)
Change luminescence power (using switch)
Turn 100 BASE-TX link on and off when shielded (using switch)

Indicator

Power indicator lamp Unit optical reception level indicator lamp Link indicator lamp Transmission/reception indicator lamp
Test confirmation indicator lamp

Seder element

Near infrared light emitting diode

Receiver element

Photodiode

Ambient operating temperature

-10 to 50°C No freezing allowed

Ambient operating humidity

10 to 85%RH No condensation allowed

Ambient operating illumination

Solar beam : 10,000 lx or less,
Fluorescent, incandescent lamps : 3,000 lx or less
No externally disturbed light shall directly enter the receiver.

Enclosure rating

IP64

Weight

4.9Kg (Include fixture and case)
Sample System Configuration


Sample Applications (for street security camera monitoring)