SOT-EQ(2.5Mbps)Series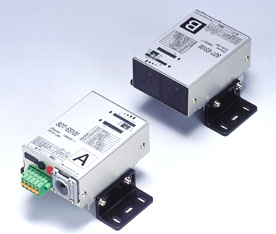 Feature
The SOT-ES/EQ Series implements Ethernet backbone communications. It greatly improves the degree of freedom of network systems, with a wireless data transfer rate of 10 Mbps.
Connects wirelessly to Ethernet via infrared, enabling high-volume communication without loss of quality.
The SOT-EQ series (2.5 Mbps) has been added to the SOT-ES series (10Mbps), greatly improving cost performance.
The SOT-EQ series allows the carrier frequency to be changed via a DIP switch, enabling two-way communication
on the same track or in parallel without interference.
In the case of a conveyance control system, the cars and ground system can be connected to the same network,
enabling remote monitoring. A programmable control system can be used on the same network to greatly improve maintainability, by enabling program verification and modification on the mobile unit, in addition to normal data communications.
Unlike radio-wave communication, stable throughput is possible with communication between optical transmission systems. Optical communication is also more secure.
Each device can check the reception level of the other.
Specification
Model No. Descriptions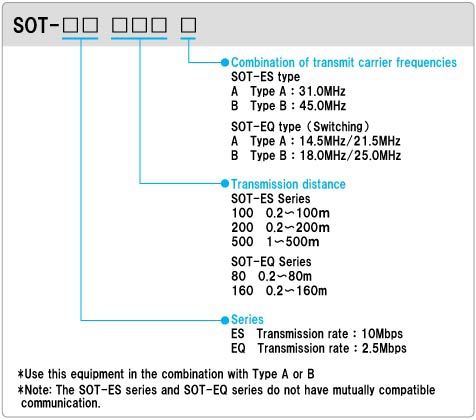 Sample System Configuration
FA-LAN System Configuration


Sample FL-net (OPCN-2) open net system configuration


Specifications (SOT-ES series)
Model

SOT-ES100A/B

SOT-ES200A/B

SOT-ES500A/B

Environment

IEEE802.3(Ethernet)

Transmission rate

10Mbps

Power voltage

Rated voltage : 24VDC (SOT-ES500 : 100V AC 50/60Hz)
Power ripples : 10% or less
Voltage : 18-30VDC Peak voltage including ripples: Within 30V

Current consumption

Less than 150mA (at 24VDC input)
SOT-ES500 : Power consumption 10VA or less

Interface

10BASE-T(Auto negotiation, AutoMDIX compatible)

Transmission method

Full-duplex, bi-directional

Communication control method

Bit forward

Connected to:

Network card or switching hub

Transmission distance

0.2 -100m

0.2 -200m

1 -500m

Directivity

1.2 degrees

1 degrees

1 degrees

Modulation method

FSK

Lighting element

Near infrared light emitting diode(light emitting wavelength 870nm)

Receiving element

Photodiodes

Auxiliary output

DL: "ON" when communication is permitted
ALM: "OFF" when the reception level is low
Photo coupler insulated NPN open collector outputs
Output rating: 30VDC 50mA MAX

Connection

For signal: RJ-45 modular jack
Up to category 3 or more twist pair cable 100m
Automatic switching between straight/crossing cables by means of AutoMDIX
For power/aux. output: 5-polar connector terminal block (Phoenix MSTB2.5/5-GF-5.08)

Indicator

POW: Power indicator lamp (red) ; Lights up red when power supply is on
LINK: Link indicator lamp (green) ; Lights up green when Ethernet is connected normally
SD: Sending data indicator lamp (red); Lights up red when sending data input is on.
RD: Receiving data indicator lamp (green); Lights up green when received data output is on.
FDX: Full-duplex indicator lamp (red); Lights up red in full-duplex connection.
Own unit CD: Clear data indicator lamp (red); Lights up red at a sufficient reception level of own station for communication.
Own unit LEVEL: Reception level indicator lamp (4 points) (green); Lights up green according to own station reception level.
Receiving unit CD: Clear data indicator lamp (red); Lights up red at a sufficient reception level of receiving unit for communication.
Receiving unit LEVEL: Reception level indicator lamp (4 points) (green); Lights up green according to receiving unit reception level.

Check terminals

DC voltage corresponding to the reception level is provided.
(Use the DC voltage range with a 10k Ohm/V or higher tester)

Ambient operating illumination

Sunlight: 10,000 lx or less
Fluorescent, incandescent lamps: 3,000 lx or less
No externally disturbed light shall directly enter the receiver.

Ambient operating temperature

-10 – +55℃ No Freezing allowed

Ambient operating humidity

10 – 85% RH No condensation allowed

Vibration resistance

Frequency: 10 – 55 Hz, complex amplitude: 1.5 mm, sweep: 5 min
20 cycles in each of X, Y and Z directions (per JIS C0040)

Shock resistance

500 m/s2 10times in each of X, Y and Z direction (per JIS C0041)

Enclosure rating

IP40

Weight (Main body)

350g

350g

700g

Accessories

Fixture (1 set), screws for fixture (4 pcs), power/aux. output plug (1 pc)
Specifications (SOT-EQ series)
Model

SOT-EQ80A/B

SOT-EQ160A/B

Environment

IEEE802.3 (Ethernet)

Transmission rate

10 Mbps (effective throughput 2Mbps max.)

Power voltage

Rated voltage : 24VDC Power ripples 10% or less
Voltage : 18 – 30VDC Peak voltage including ripples: Within 30V

Current consumption

Less than 150 mA (at 24 VDC input)

Interface

10BASE-T (Auto negotiation, AutoMDIX compatible)

Transmission method

Full-duplex, bi-directional

Communication control method

Store & forward, flow control (IEEE802.3x, back pressure)

Connected to

Network card or switching hub

Transmission distance

0.2 – 80m

0.2-160m

Directivity

1 degrees

Modulation method

FSK

Lighting element

Near infrared light emitting diode (light emitting wavelength 870nm)

Receiving element

Photodiodes

Auxiliary output

DL : "ON" when communication is permitted
ALM : "OFF" when the reception level is low
Photo coupler insulated NPN open collector outputs
Output rating: 30VDC 50mA MAX

Connection

For signal : RJ-45 modular jack
Up to category 3 or more twist pair cable 100m
Automatic switching between straight/crossing cables by means of AutoMDIX
For power/aux. output : 5-polar connector terminal block (Phoenix MSTB2.5/5-GF-5.08)

Indicators

POW : Power indicator lamp (red); Shows red when power supply is on
LINK : Link indicator lamp (green); Shows green when Ethernet is

connected normally

SD : Sending data indicator lamp (red); Lights up red when sending data input is on.
RD : Receiving data indicator lamp (green); Lights up green when received data output is on.
FDX : Full-duplex indicator lamp (red); Lights up red in full-duplex connection.
Own unit CD : Clear data indicator lamp (red); Lights up red at a sufficient reception level of own station for communication.
Own unit LEVEL : Reception level indicator lamp (4 points) (green) ; Lights up green according to own station reception level.
Receiving unit CD : Clear data indicator lamp (red); Lights up red at a sufficient reception level of receiving unit for communication.
Receiving unit LEVEL : Reception level indicator lamp (4 points) (green) ; Lights up green according to receiving unit reception level.
CH : Channel indicator lamp (red) ; Lights up red when CH2 is selected.

Check terminals

DC voltage corresponding to the reception level is provided.
(Use the DC voltage range with a 10k Ohm/V or higher tester.)

Ambient operating illumination

Sunlight: 10,000 lx or less
Fluorescent, incandescent lamps : 3,000lx or less
No externally disturbed light shall directly enter the receiver.

Ambient operating temperature

-10 – +55℃ No freezing allowed

Ambient operating humidity

10 – 85% RH No condensation allowed

Vibration resistance

Frequency : 10 – 55 Hz, complex amplitude: 1.5mm, sweep : 5min
20 cycles in each of X, Y and Z directions (per JIS C0040)

Shock resistance

500 m/s2 10 times in each of X, Y and Z directions (per JIS C0041)

Enclosure rating

IP40

Weight (Main body)

350g

Accessories

Fixture (1 set), screws for fixture (4 pcs), power/aux. output plug (1 pc)