K-rate (K-Factor Rated) Transformer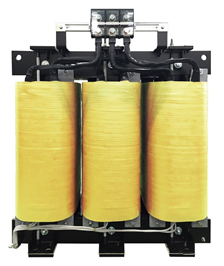 Feature
This is the transformer which adapted to
UL-1561 21.1.4 (Temperature rise)
The server (load facilities of the secondary side) generates harmonics for non-linear loads.
Harmonic distortion will cause transformer to overheat or affect power system equipment.
Effects of harmonics on transformers
Increase in load loss of the winding caused by skin effect.
Increase in eddy current loss
Increase in N phase electric current.
Specification
Type
Dry-type self-cooling system
Normal usage condition
For indoor use, ambient temperature -5 to 40°C (daily average below 35°C, yearly average below 20°C) above altitude l000m or less
Applicable standard
JEC-2200(2014)transformer &
JEM-1310(2001)Dry-type transformer, rise limit and winding standard temperature (Insulation Class H)
UL-1561 21.1.4 ( Temperature rise )
Insulation class
Insulation class [ H ] & temperature rise limit : 140K (Winding temperature rise)
Installation location
Indoor installation without case, cubicle storage
Harmonic tolerance
K=13
Neutral current
200% correspondence
Magnetizing inrush current
Double or less
Impedance percentage
6% or less ( at time of K=13 )
Number of phases
Three-phase
Three-phase / Two-phase (Scott)
Frequency (Hz)
50 or 60
Primary voltage [V]
F440-R420-F400 ( 50Hz )
F460-R440-F420 ( 60Hz )
420 ( 50Hz )
440 ( 60Hz )
Secondary voltage [V]
R210/121-F182/105
210-105 x 2 circuit
Connection
7 wire system()
Capacity (kVA)
100
150
200
250
300
100
150
200
250
300
Principal Use
It is greatly adopted in domestic iDC (Internet Data Center)
for UPS (Uninterruptible Power Supply)
for PDU (Power Distribution Unit)
Power supply for data management and for building-related use
Download
K-rate (K-Factor Rated) Transformer Catalog
Please inquire about custom products.