Bringing together technological expertise, to propose an optimal control system.
Regardless of the industry, the Engineering Division will meet our customers' individual needs. Accurately perceiving what customers need and want, and gathering together our technological expertise, we propose an optimal system to control facilities from the production of a single machine to the management of an entire production process.
Product Process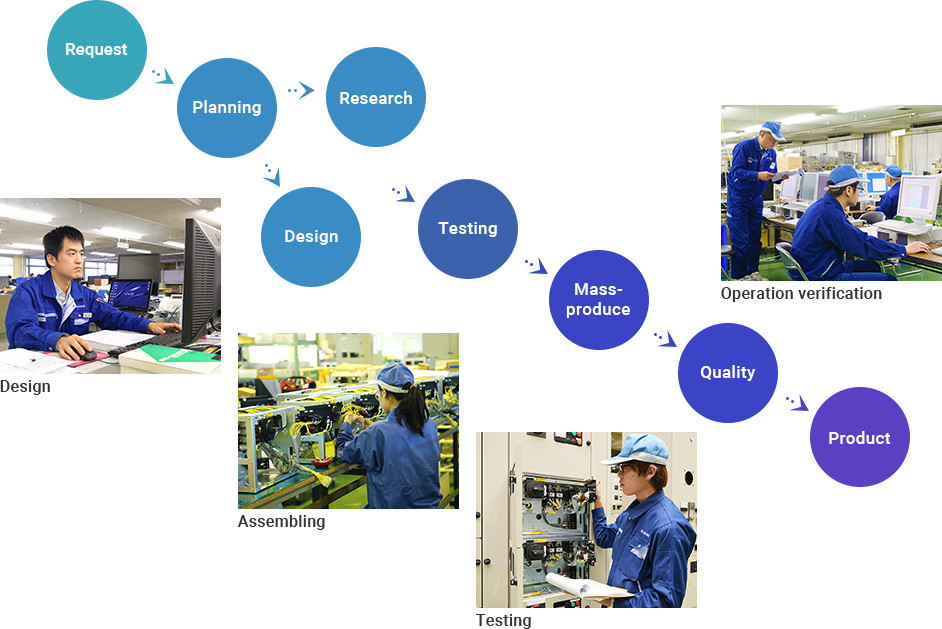 System Engineering
We incorporate the comprehensive needs of our customers. We support a wide range of systems technology from hardware to software.
General Industry/ FA System
Security System
Newspaper Production Control System
General Logistics Control Monitoring System
Information System

Principal Products

System Related to Newspaper Production
Monitoring and Control System
Control Board/ Operation Board
Development of Products and Components
The many automation apparatuses which came out of the needs of the field of FA are crystals of us technology which I created from a wide electronics technology and experience of rich system construction.
Testing Equipment
Inspection Equipment
Printing Related Equipment
Development of Electronic Equipment in Power Distribution Area
OEM products

Principal Products

Wire-Saving Conveyor Controller
Announcement System
Control Board
Power Technology
We support a wide range of electrical facilities from power distribution to power control. We are looking towards the future and computerizing our facilities.
Switch-board for General Industries
SCR Applied Heater Control(Electric Furnace/ Air Conditioning/ Textiles)
Air Conditioning Control (Building/ Subway), etc
Waste Incinerator Control
Water and Sewage/ Pump Control

Principal Products

Motor Control Center
High-Voltage Switch Board
Instrumentation Control Board