SOT-MQ82/162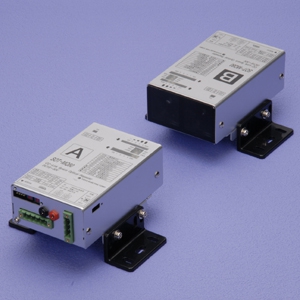 Feature
A factory-automation network solution: backbone communications with CC-Link support, offering a high degree of freedom in network configuration.
CC-Link communication can also be replaced with a high-speed wireless optical (infrared) communication system, enabling fantastic reduction of wiring.
Optically transmit CC-Link data.
The CC-Link cable can be replaced with wireless optical communication.
Wireless reception can be transmitted to a master unit,facilitating optical-axis adjustment and improving maintainability.
Communication speeds of 156 k, 652 k, and 2.5 Mbps supported.
Specification
Model No. Descriptions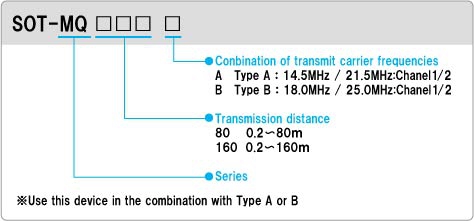 Sample System Configuration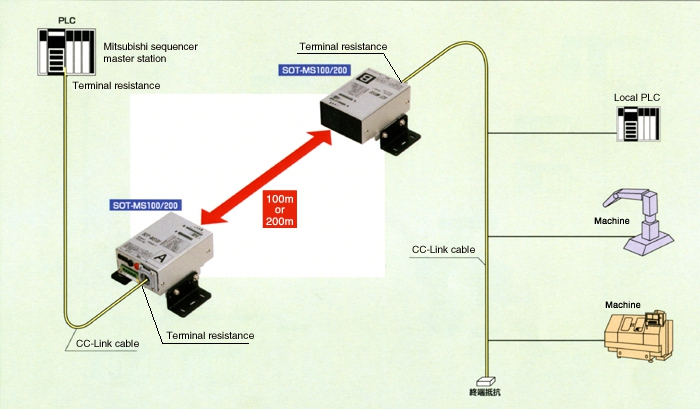 Specifications
Model

SOT-MQ160A/B

SOT-MQ80A/B

Environment

CC-Link

Transmission rate

156k, 625k, 2.5Mbps

Power voltage

Rated voltage:24VDC Power ripples:10% or less Voltage:18-30VDC Peak voltage including ripples: Within 30V

Current consumption

Less than 150mA(at 24VDC input)

Interface

RS485 compliant

Transmission method

Half duplex

Communication control method

Bit forward

Num. stations occupied

When monitor function used: 1 When monitor function not used : 0

Transmission distance

0.2 – 160m

0.2 – 80m

Directivity

1 degrees (both horizontal and vertical)

Modulation method

FSK

Lighting element

Near infrared light emitting diode(light emitting wavelenghth 870nm)

Receiving element

Photodiodes

Setting switches

4-pin dip switch
SW1,2 : Communication speed setting
Communication speeds 156k, 625k, 2.5M Cannot be set
SW3 : Not used Use with this set to "off"
SW4 : Switch transmission carrier frequency OFF CH1 ON CH2

Auxiliary output

CDO : "ON" when communication is permitted
ALM : "OF" when the reception level is low

Photocoupler insulation NPN open collector output

Output rating : 30VDC 50mA MAX

Connection

For signal :4-pole connector terminal block
For power/auxiliary output: 5-pole connector terminal block

Check terminals

DC voltage corresponding to the reception level is provided.
(Use the DC voltage range with a 10kOhm /V or higher tester)

Code setting switch

Two rotary switches
00 : Monitor function not used
01 to 64 : Code setting when monitor function used
65 to 99 : Cannot be set

Terminal resistance switch: Three-position slide switch

ON1 : 110 Ohm
OFF : Open
ON2 : 130 Ohm

Ambient operating illumination

Solar beam: 10,000 lx or less
Fluorescent, incandescent lamps: 3,000 lx or less
No externally disturbed light shall directly enter the receiver.

Ambient operating temperature

-10 – +55℃ No Freezing allowed

Ambient operating humidity

10 – 85% RH No condensation allowed

Weight (Main body)

350g

Accessories

Fixture (1 Set), screws for fixture (4 pcs.).
Signal plug (1 pc), power/aux. output plug (1 pc).
Principal Use
■Communication of Automated storage and retrieval system.

A system that controls two or more stacker cranes simultaneously by bidirectional transmission.
Download
SOT-MQ82/162 Catalog
PDF Data Download
SOT-MQ82/162 Instruction manual
PDF Data Download